HORSES SOLD
NFR Wiconi Warrior
4th At The 2007 APHA World Show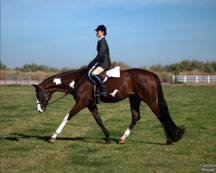 Wiconi is a stunning 16.3 hand 2004 mahogany bay overo stallion. Wiconi placed 4th at the 2007 APHA World show in the 3 year old Hunter Under Saddle Challenge.
Wiconi was bred by Stephen Smith and was shown as a yearling by Mountain View Paint Horse Ranch. He spent his 2 year old year in training with World Champion Karen Qualls of Premier Performance Horses.
Through the marvels of modern horse breeding technology, Wiconi's semen was collected and frozen for future use. He was gelded and will now have a youth mount for the 2008 season.
Congratulations to World Champion Suzanne Whittington, and World Champion Chauncey Smith on the purchase of this outstanding horse. Suzanne owns and runs Silver Legacy Pleasure Horses in Tucson, Arizona. Chauncey will be riding Wiconi in the youth 14-18 hunt seat classes. This team started their show career in impressive fashion, taking 1st or 2nd under all judges in all classes at the APHC winter show in Buckeyes Arizona.
Mountain View Paint Horse Ranch will maintain all breeding rights including annual APHA Breeders Trust registrations to Wiconi. See his Stallion Page on this site for more information.